Description: Tiny. 4" in length (beak to tail), smaller than a sparrow. Long skinny beak. Metallic green back and tail. Light whitish belly/chest with some green speckling. Males have iridescent red head and throat.
Sound: Common call note is a sharp "chick" often followed by dry rapid rattling. "Male's song is a jumble of high squeaks and raspy notes." (from National Geographic field guide) Listen to an Anna's Hummingbird calling! Link is to the sound page for this bird from the Cornell Lab of Ornithology's All About Birds.
Commonality/Seasonality: Very common year-round. Our climate here is such that they don't need to migrate.
Location: All over campus, anywhere there are trees or bushes with nectar-bearing flowers. In particular, hummingbirds (and other small birds) LOVE bottlebrush plants, of which we have many on campus and in the surrounding area. Here's a picture of a bottlebrush plant: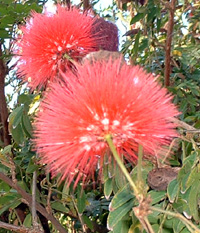 The bottlebrush plants may simply be bushes, if they are small, or may grow into full-fledged trees. Stick around one of these for a while and you're bound to hear some hummers and see them zooming around. Once you know what they sound like, you'll hear them all over.
Notes: Hummingbirds DO actually stop flying (contrary to an urban myth) and can be seen perching in trees and bushes. They are very territorial and fight with each other very often, so they're not flock birds. That said, you may see a good number of them around a good nectar source, but odds are they'll be chasing and fighting like crazy. They drink the nectar from flowers for energy, but also chase down and eat small insects for nutrition.
The other species of hummingbird we have on and around campus is the Allen's Hummingbird.
If you or anyone you know has, or is considering having a hummingbird feeder, please read this:
Important Hummingbird Feeder Info
http://www.hummingbirdsociety.org
Historical:
Our only resident hummer and our most abundant. They will begin mating in mid-winter, the nuptial flight performance being recorded December 6, 1929; December 11, 1941; December 27, 1942. Fuly fledged young were found March 30, 1933.

-Miller, Loye. "Birds of the Campus, University of California, Los Angeles," from University of California Syllabus Series, No. 300. Text by Loye Miller, illustrations by Robert C. Stebbins. Los Angeles: University of California Press, 1947.